For the last couple of weeks, I have been working up to my 100th post. I can't believe I have had enough to talk about for 100 posts. I was planning on doing something fun and different for my 100th. Well, I miss that. This morning I was thinking again about what I was going to do, and thought I would check to see how close I was getting. This is what I saw...
I guess vegetable fritters are my big ta do 100th post. Good thing they were tasty! For everyone that has been reading along, thank you much! I'm looking forward to the next 100...
Changing the subject, a few months ago, Kam's winter fur needed to be come off!!! So we thought it would be funny to photograph it. I had intended on making this animated gif of the process a long time ago, but never got around to it finishing it. Then yesterday I came across
gickr
that does all the work for you. Granted I have all the necessary programs to put an animated gif together, and I did actually attempt it at one point, but got frustrated from files sizes and left it for another day. So gickr is my new favorite for today. Try it out sometime! Here is the gif of me sheering Kam.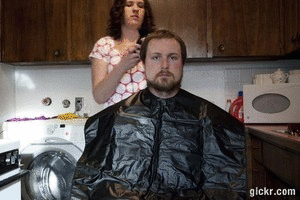 Not the best animated gif out there, but it's something! I made a salad with some of the left over flank steak last night, but didn't think it would want to blog it. Wrong. Rats. Guess I will have to make it again. But I do have something yummy to share soon for all you coffee lovers out there. Do something fun today!