Ok, I got a little creative. It was a good thing.
What you'll need:
1
24 hour pizza crust
(split the dough in half for small, or use the whole thing for a medium-large size pizza. This will be a half size.)
1/2 cup mozzarella (grated or sliced, your choice)
1/4 cup gouda (grated or sliced, your choice)
1/2 cup caramelized onions and mushrooms
2 cups au juice
7 or 8 fresh basil leaves
Prepare pizza crust to
these instructions
and preheat pizza stone to 450 to 500 depending on how hot your oven gets. Saute about 1/4 of an onion and 3 or 4 sliced button mushrooms in a little butter. In a small pan, make up au juice and place roast beef pieces into juice. Bring to a boil and reduce heat, let simmer until ready to use.
Once dough is stretched, make sure it still slides easily on the board. If not, add a little more flour. Brush the outer rim with olive oil. Layer onions and mushrooms, roast beef straight from the au juice (don't shake it, get some of the juice on there), cheeses and basil leaves onto curst. You can do what you wish with the left over au juice. Slide pizza off cookie sheet or cutting board onto pizza stone. Bake for 6-7 minutes. Be sure to remove pizza from stone once done or it will continue to burn the crust. Let rest for 3 minutes before slicing.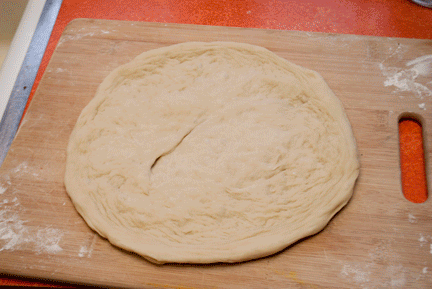 This was so good, and we had just enough roast beef left over that we had this for dinner the next night too. Its kind of a make it when you can type of pizza. It's not everyday that you have roast beef laying around. But, next time you do, keep this in mind! You will be happy with yourself if you do. Enjoy!